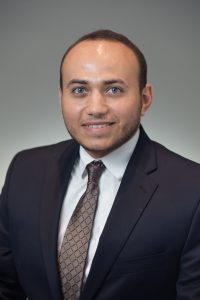 Dr. Peter Amin
Dr. Peter Amin is a diplomate of the American Board of Periodontics and a board-certified Periodontist. He completed his Fellowship and Residency in Periodontics at Case Western Reserve University in 2014 and 2017, respectively. Prior to that, he finished his dental school at Cairo, Egypt in 2011, practiced general dentistry for a couple of years before studying Periodontics at CWRU.
On top of being a member of the American Academy of Periodontology and the Midwest Society of Periodontology, Dr. Amin was also the Chief Resident of the Periodontics Department at Case Western Reserve University in 2016-2017. Following his passion, Dr. Amin joined Cresta Dental Implants LLC in 2017. He is fluent in both English and Arabic, passionate about basketball, and believes that dentistry transforms the lives of his patients. In June of 2018, Dr. Amin published a clinical article in an international journal. To read his publication, Click Here.
Location Information:
DDC Endodontics
7081 Pearl Rd.
Middleburg Heights, OH 44130
Monday – Thursday 8:30-5:30
Friday 8:00-4:00
Phone: (216) 282-1491
Fax: (216) 920-9592